This week I'm really excited to review a book for you from Tyndale publishers. Band of Sisters is the first book I've reviewed for them and it's a more involved process than other companies I've reviewed for...you get "backstage" information about the book (a Q&A with the author), an assigned date to publish your review, as well as the knowledge the author will be stopping by your blog to say hi (oh, the pressure!). But I made it, so here is my review.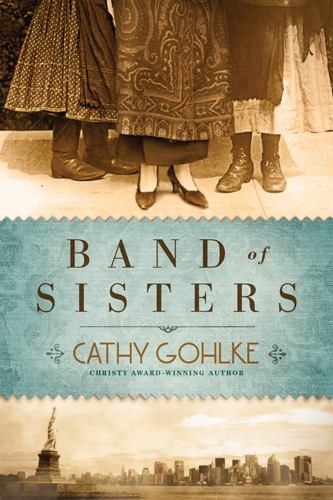 Synopsis:
Maureen O'Reilly and her younger sister flee Ireland in hope of claiming the life promised to their father over twenty years before. After surviving the rigors of Ellis Island, Maureen learns that their benefactor, Colonel Wakefield, has died. His family, refusing to own his Civil War debt, casts her out. Alone, impoverished, and in danger of deportation, Maureen connives to obtain employment in a prominent department store. But she soon discovers that the elegant facade hides a secret that threatens every vulnerable woman in the city.

Despite her family's disapproval, Olivia Wakefield determines to honor her father's debt but can't find Maureen. Unexpected help comes from a local businessman, whom Olivia begins to see as more than an ally, even as she fears the secrets he's hiding. As women begin disappearing from the store, Olivia rallies influential ladies in her circle to help Maureen take a stand against injustice and fight for the lives of their growing band of sisters. But can either woman open her heart to divine leading or the love it might bring?
My review:
I picked up this book around 1:30am figuring I'd read for a few minutes and then go to bed. By the time I got to the 10th page, I couldn't put it down until I knew what happened in the end. I was so wrapped up in the story, I didn't even notice the time, until I finished it and found it was 5:30am! It is that good.
I love historical fiction, but this book is not only a mesmerizing story, but also a call to action. We suffer and struggle with Maureen as she desperately tries to protect herself and her young, obstinate sister. The author has done an amazing job of placing you right there, in the moment with the characters. I was terrified right along with Maureen as she faces down this evil that is trying to capture her and those around her. I stood tall with Olivia and her ladies group as they sought God's will on how best to use their considerable influence.
I love Olivia's character and her desire to help those around her. She is a woman of action and has been raised to think on her own.
Band of Sisters shows what women (and men of course) can do when they put their own desires aside and pray for guidance from our great God. This is a story of the battle of good and evil, failure and triumph, pain and joy.
I cannot recommend highly enough that you read this book. You will be changed. This is real stuff, placed in a fictional setting.
Q&A with Cathy Gohlke (to see more visit Cathy's Website)
1. What motivated you to write
Band of Sisters
?
I've always been fascinated by the abolition of slavery and the civil rights movement. But I was horrified to learn that there are more than twice as many men, women and children enslaved today than at the height of the trans-Atlantic slave trade. This book was born of a passion to end modern-day slavery, and most of all, to ask, "What can I do to help in a need so desperate?"
2. Why did you choose NYC 1910-1911 to tell this story? And how does human trafficking in that era compare to human trafficking today?

I was inspired by an article I'd read about Alma Mathews. Alma was a small but determined woman who, armed with her umbrella and a hefty douse of fury, stood against dangerous men bent on exploiting immigrant women as they entered the U.S. through Castle Gardens, in old New York City. Alma ushered young women to her home, prepared them for employment, and helped them begin a safe new life in the city. It became a full time ministry involving many—all in the early days of the settlement house movement.

But my editor suggested that I set the story later, when immigrants entered the U.S. through Ellis Island. As I researched that possibility, I found that the problem of exploitation and human trafficking had not only grown during those years, but that the strikes of NYC shirtwaist factory workers had made public the desperate need for women to make a living wage in safe circumstances. Necessary elements for the story and high drama were all a matter of public record—everything from the passing of the Mann Act to address the fear of white slavery to the Triangle Waist Factory fire.

Even though our technology, transportation, communication, etc., is different from the story's era, many countries today are no further in providing rights and safeguards for women than the U.S. was in 1910. Some are further behind.
Many of the same ruses are used by traffickers to lure women into their snare now as they were then: better paying jobs for themselves and/or money for their families, flirtation, pretense of emotional caring and support, marriage, offers specifically for modeling jobs, offers for education, appeals for help of various kinds, plays on sympathies, etc.

In some cases, after having sex with someone they trusted, or after being drugged and forced into having sex, women or children are/were blackmailed. Fearful that their families will not believe them or will accuse them of promiscuity and reject them, they are afraid and feel compelled to sneak out and "service" men when called. Some are sold to traffickers or users by members of their own family, or by someone they trust.

Once trapped—sometimes after being unwittingly drugged and/or blackmailed—women are often transported far from their home (crossing borders to other states or countries). Held against their will through abuse, enforced poverty, lack of ID, lack of language skills, lack of visas or passports, they may simply not know who to trust or where to go for help in the country in which they find themselves. Isolation, th
reats to their person or their family, repeated brain washing that they are dirty, worthless, unwanted, unloved, and good for nothing but sex with paying customers are all tools that traffickers use to intimidate and control their victims.
Fear of what will happen if they try to escape, fear that they have ruined their lives and will have no other way to live, fear for themselves and loved ones, resulting health problems, feelings of hopelessness and a constantly reinforced sense of self-worthlessness all form formidable prisons for victims of trafficking. Even if it seems they can physically escape, they may not be able to break the emotional or mental chains that bind them.

All those things happened then, and they continue to happen to victims today.
*************************************
How can you help combat this modern day slavery?
First of all PRAY! There is nothing more powerful you can do.
Second, get involved! Find a local shelter or charity and ask if there are ways they could use you to encourage and minister to girls and young women to help give them hope.
One of the the charities that we've supported for many years is called Shared Hope International. There are many others I'm sure, but that is one I'm directly knowledgeable about.
If you can't get directly involved with raising awareness or helping with this problem, donating money to help those who are on the front lines fighting this battle is extremely necessary.
Thank you Cathy for writing a poignant and passionate story that calls all of us to action.
In exchange for my honest review, I received a copy of the book from Tyndale House Publishers