What is not to like about Radio Theater?! I was thrilled when I got the chance to review Oliver Twist for Tyndale House Publishers

.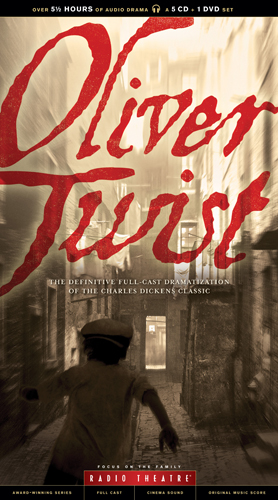 I want my kids to love reading as much as I do and having never read this classic story by Charles Dickens, it was

my

perfect opportunity to introduce them to c

lassic literature.
This whole production was such a pleasure to listen to

.

The voice work is amazing and we were all transported into Oliver

's

world as we sat in the living room

together

. We've spent many days listening for about an hour at a time and though some of the information was hard to hear, it began many discussions on poverty, treatment of the poor and children and also the traditions a

nd

human behaviors during that time period.
I really hope to acquire other books done with Radio Theater by Focus on the Family. It's a great way to expose my children to the classics in a delightful

way

. The kids have to use their imaginations and learn to truly listen and process information without the help of vis

ual stimuli.

Oliver Twist is an awesome story, beautifully done. You would never regret spending your time listening to such a beautiful

book

.
My thanks

to Tyndale for giving me the opportunity to review this.
In exchange for my honest review, I received a copy of the cd

's

from Tyndale House Publishers