This week I processed 30 lbs of organic Black plums into jam. I was winging it and combined a couple different recipes I found online. This version turned out excellent.
In fact, Dave's parents are here visiting for a couple of weeks and my Father-in-law said it reminded him of what his own grandmother used to make and brought him back to his childhood (that's a serious compliment!). The flavor and texture is a bit like apple butter, especially if you use the cinnamon sticks.
I did all the fruit in 2 batches. 1 batch will make about 9 pints of jam.
~Black Plum Homestyle Jam ~
15 lbs organic black plums
3 lbs organic peaches or nectarines
2 tablespoons butter (to reduce foaming)
2 sticks cinnamon (optional)
(for smooth jam, you'll need an immersion blender)
Roughly chop (no need to peel!) and pit all the fruit, adding it to a large stockpot. Add water and sugar. Bring to a low boil and reduce heat to simmer. Let it simmer, stirring occasionally, for 2 - 3 hours until the fruit is broken down really well.
In the meantime, run a sink full of very hot water and keep your jars and lids in the water until it's time to can ( this should keep the glass from breaking when you put in the hot jam). Get your waterbath canning pot boiling.
If you used the cinnamon sticks, remove them now. Add pectin. With an immersion blender, puree until smooth.
Take your hot jar and fill it (leave 1" of headroom). Wipe the top edge to clean and dry it and put on the lids. Place it in the canning rack braced over boiling water until you're done filling that batch of jars. Process them for 10 minutes. Remove from water and let cool on a rack or some towels.
Just to show that not all of us are perfect, I had one of my jars crack and when I pulled out my second batch, we found this broken quart jar and the water full of jam (I've never had that happen before, but on a good note, it only broke in 2 pieces)
Moving on to the good stuff! This jam has a homey

(ie:
homelike homey
atmosphere;
also
:
evocative of home; not "Yo, homey, wuz up?!),
creamy and rich flavor.
The color is just beautiful
As I said earlier, Dave's parents are visiting and while the older kids are thrilled, Lydia is not so sure. She doesn't cry when they pick her up, but we see lots of this expression...the little stinker
If you try this recipe, I'd love to hear what you think!
FEATURED AT: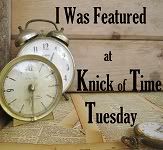 Linking to: