Finally my room is "done", though for us decorating crazies, done is a moving target it seems. ♥
I'm so happy with how my bedroom turned out. I have been craving light after our long dark winter, and this room does not disappoint. It has a feeling of peace and calm.
Our little girl will be born in this room sometime in May, and it's finally ready to welcome her.
I adore this chalkboard. "I ♥ You" could be put in there too, among other sweet notes to my husband ♥
The bedding is a combination of pieces I already had and some new stuff from Ebay. I got the deep pocket robins eggs blue sheets for a great price on Ebay, as well as the Simply Shabby Chic quilt and sham set.. I've had the Simply Shabby Chic ruffled duvet cover and shams for years, but have always hated how the duvet fit inside it - This time I used it like a coverlet and it works SO much better.
The door to the right is a small walk in closet, which is due for a redo in the next 2 weeks or so
I love the chippy-ness!
By the time I was halfway through taking these photos, little man had this all set up already.
Just keeping it real! Gotta move fast for decent pics around here.
Thanks for looking at my room tour, I hope you enjoyed it!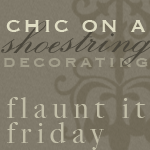 SHABBY NEST- FRUGAL FRIDAY