Dave started flying on Wednesday. His next flight is tomorrow and then again Friday. So at that rate, it looks like we'll be leaving here on the 6th or 7th. It's a few days earlier than we'd planned, so I'm happy about that. The program is pretty disorganized, so I don't think we'll know for sure until sometime next week (yeah, the week we leave). Nothing like keeping you on your toes.
The kids and I are going to do some organizing and packing this coming week, but for now we're going places the kids have liked "one more time". We've made some good memories this summer. The kids have a very limited existence here, but they don't seem to care. It's all about the memories. The little things. The fun places we've eaten, the Wal Mart toy area, the library, the community center, the pool....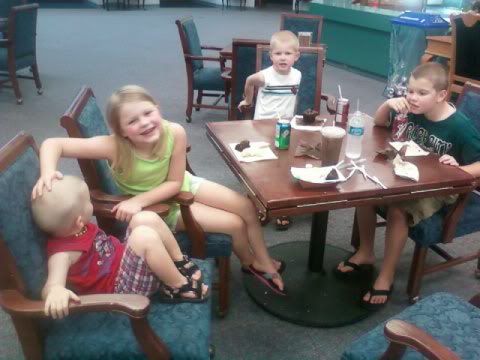 Dave and I were reminiscing about the old house and our life there. Both of us noted that almost all the good memories revolved around the kids. Them playing in their room, them running through the house, playing games on the floor... THEY are what matters. Our family is what matters. We will make wonderful new memories at our new home.
As long as we're together, life is pretty good. No matter where we are. It's amazing how the kids ground us and keep reality close. I am so thankful for them and my husband.
This journey is blessed and planned by our Lord and he will be with us as we go down the unknown road. If I didn't recognize that, none of this would make any sense. God sees and orchestrates the bigger picture and he knows what is best. We just have to be willing to wait.